El Potrero Chico, Flight Delays, and Savings Update
Hi friends! We thought we'd catch you up on our travels before we get back into vanlife things. I'm covering two topics in this blog:
El Potrero Chico ("EPC") - This section is heavily focused on travel tips and climbing and may not be relevant to you if you're not looking for information on EPC. I included a brief section at the beginning explaining the different types of climbing, so this part is worth a read if you're curious about climbing.
Flight Delays - A new regulation was implemented in Canada on December 15, 2019 which affects how airlines handle flight delays and cancellations, particularly with how passengers are to be compensated. READ THIS as I'm sure you'll be flying at some point in the future.
Vacation in El Potrero Chico
We recently got back from El Potrero Chico, a climbing paradise north of Monterrey, Mexico. We arrived when it was pitch-black, around 2 AM (more on that in Flight Delays below). When we crawled out of our tents the next morning, we were greeted with this.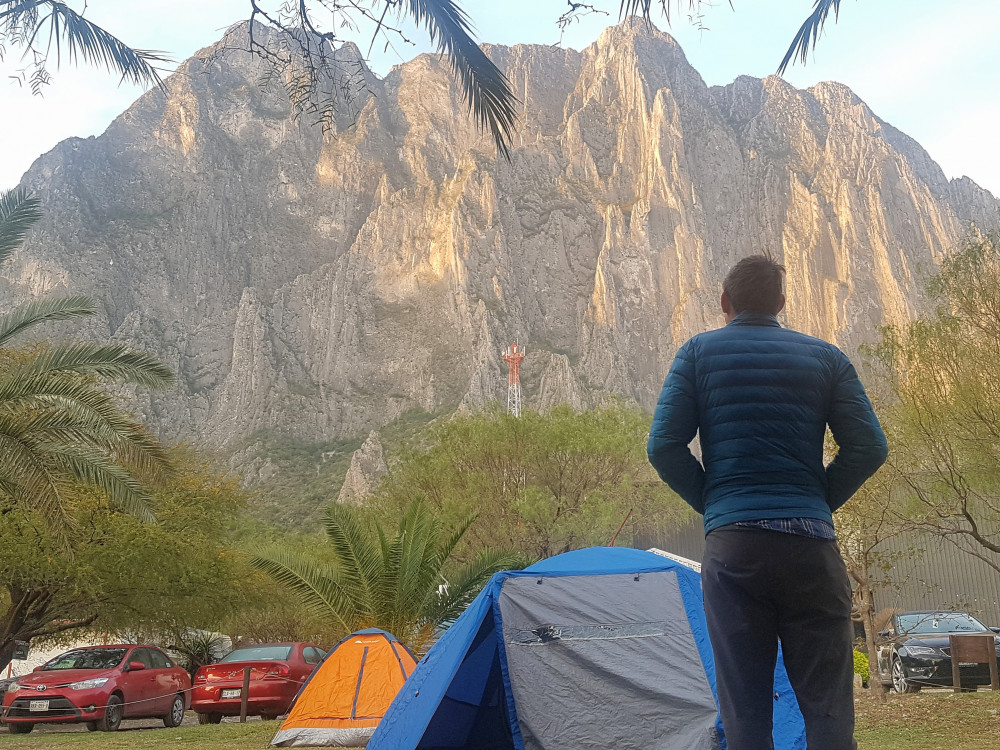 Just LOOK at this place! The number of multi-pitch sport routes were endless and the limestone ridges stretched for days.
Multi-pitch Sport? What Does That Mean?
For those who aren't familiar with rock climbing, multi-pitch means the entire route has many sections. At the climbing gym, climbing up to the top, or the "anchors," is considered one section or a pitch (although when you're outdoors, one pitch is usually at least 3x the height of a gym route). At the end of each pitch, you set yourself up to belay your partner to climb up to meet you before you continue on. A multi-pitch route then has at least two pitches.
When we say "sport" climbing, as opposed to "trad/traditional" climbing or "bouldering", it means we are climbing up a longer route with a rope and harness while affixing our safety equipment to permanent bolts. This means someone has ascended the route before and screwed bolts "permanently" (they can pop off, but it's rare) into the rock. We simply climb up, attach our carabiner doohickey (called a quickdraw) to the bolt, and clip in our rope.
On the other hand, trad climbing is where there are no permanent bolts—you have to "plug" your own safety equipment, kind of like stoppers, into rock features like cracks and depressions.
Bouldering is usually a shorter route which is climbed rope- and harness-free. At the top, you jump off onto thick pads or climb down.
The Low-down on El Potrero Chico
Let me start by saying that I highly recommend El Potrero Chico as a climbing destination for both couples and groups, AS LONG AS everyone is aware that multi-pitch climbing is NOT LIKE cragging.
Not only will you tend to climb in smaller groups, you'll likely be stuck with your partner for hours on the mountain. It's not like you climb a route, come down, and get to high-five all your amigos. In EPC, there are so many groups on the popular routes that you're often waiting for those ahead of you. Even if you all climb fast, you'll eventually be held up as the first group rappels over you.
That being said, this was by far the friendliest and most welcoming climbing community I've ever encountered. We got to meet some really cool folks while we dangled together in the air.
The cherry on top? No mosquitoes. Okay, like two. ALL WEEK. And no other critters that we noticed.
Other things I have to add are:
The locals are extremely welcoming. We were picked up by a local, Pablo, as we were enroute by foot into town one day. It was swelteringly hot and he offered us a ride to the automatico cajera (ATM). Before y'all freak out, this is fairly common and nothing bad has happened before (AFAIK).
The food is freaking fantastic. Hands down, best tacos, best burritos, best margaritas. Even the impromptu Korean meal we had in Monterrey was delicious. But be wary, the spice levels here are somethin' else. You may pay for it after—don't say I didn't warn you.
Stay
We stayed at the most popular campground, La Posada. Here's another photo showing the communal hall (black building which includes a large kitchen, dining room, and upstairs living space) and the on-site restaurant, La Tradicion, on the left with the white roof.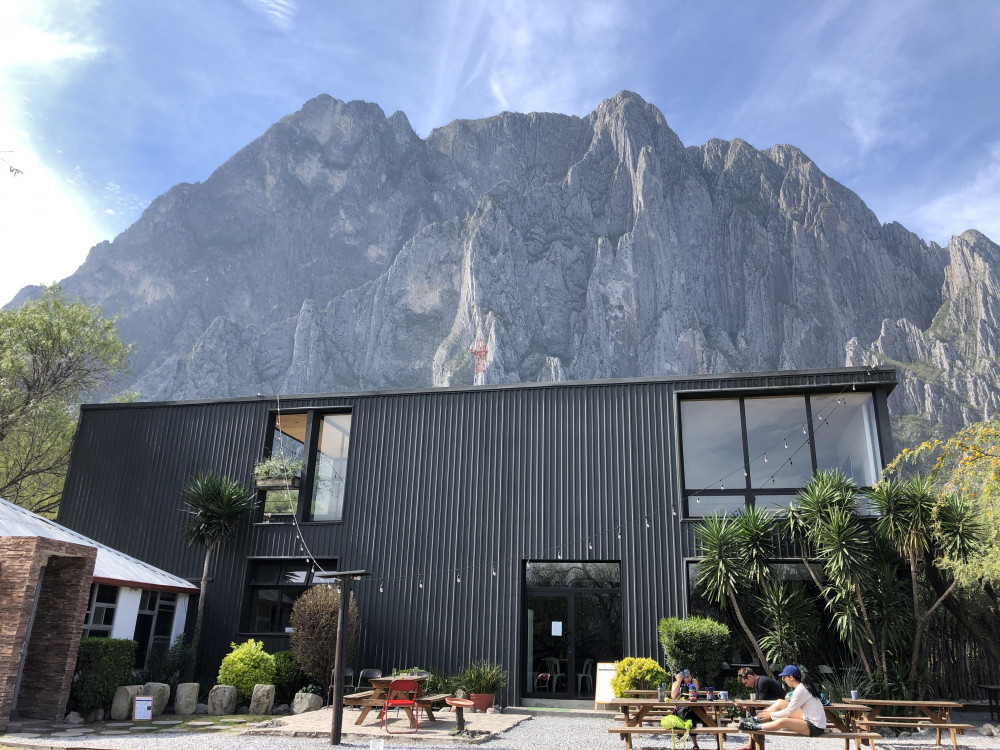 You can research how good these facilities are, but what we loved most was the community. Many climbers stay here over the winter months to continue climbing and we had the privilege of meeting some incredible people, including Ian Lingley, a fellow Canadian from New Brunswick. He was familiar with some of the climbs we went on last summer near Saint John and he filled us in on a route he was bolting in EPC. It's since been completed and aptly named Canadian Controversy.
To make your stay even better, we recommend the following things to add to your packing list. Some I hadn't seen on other blogs and others I want to emphasize. Click here for my comprehensive list, complete with recommendations.
Warm sleeping bag. I brought my 0°F/-18°C and I'm happy I did. Overkill? Perhaps, but it dropped to 4-6°C on a couple of nights and our friend Katy froze in her summer sleeping bag. Moritz was toasty in his 40°F/4°C sleeping bag and he also runs cold.
Ear plugs. I forgot mine, but luckily, a friend had an extra pair. It's not so much the people partying into the night, but the gargly rooster nearby that won't shut up. He's so loud you can hear him 7 pitches up on the mountain. Him and the trains that past through during the night.
Kitchen towel. Theirs were gnarly and it wasn't fun working with cold, wet hands in the kitchen.
Bread. I remembered that Mexican bread sucked from my last trip to Playa del Carmen, so we brought our own. High maintenance, I know.
Eat
Key advice: go early to restaurants if you plan to eat out, around 6-7 pm. After that time, the kitchens start to either run out of food (e.g. Leo's) or get completely slammed (e.g. La Tradicion). Otherwise, get groceries in Hidalgo and cook your own meals. If you spend 400 pesos or more, you get a free taxi back to your campground. Except if it's Tuesday. For some reason, we couldn't get a taxi back on Tuesday and ended up paying 70 pesos, which is not that bad.
Here are some of the places we went to and we encourage you to try them all!
Checo's - Our favourite. Hands down best taco, burrito, etc. that we had. It's a bright orange building right across the street from La Posada—you can't miss it. It seems like they open whenever, so you might not be able to plan ahead. A full meal costs 90 pesos or CA$6.50.
Taco stand on the side of the road towards the park—is this Taco Loco on Google Maps? Possibly, looks like they've upgraded from a shack to a proper building. Awesome tacos for 12 pesos (<CA$1.00) each. Great post-climb snack.
La Tradicion - On-site restaurant at La Posada. Great food, great drinks. I particularly enjoyed their pancakes when we had a late start one day. Food averages 130 peos or CA$9.50, which is a tad pricey as I expect to pay much less for food in Mexico.
Leo's - Come here if you're starving. All-you-can-eat buffet-style homemade traditional Mexican food for 150 pesos or CA$10.00. They have some vegan options, but double check that animal fat was not used.
Restaurante Jeonrado Babsang - Warning: PICANTE ALERT! This restaurant was near our Airbnb in Monterrey at the end of our trip. There's a population of Korean immigrants here that do not speak a lick of English nor Spanish. Which made sense, as the food was really good. We ordered octopus, grilled pork belly, chicken potato soup. The side dishes had gejang, which I'd never had before. Gejang is fermented raw seafood in the classic Korean chili paste. Our gejang had crab and it was spicy, savoury, and the meat was gooey and sweet and it reminded me of scallops.
Do

Climb

There's literally nothing else to do here besides climb. There's a hike up one of the ridges, but otherwise, it's climb, relax, or listen to the locals blast their music within the park. The opposing rock faces are great for acoustics, which has led the locals to acquire a bizarre obsession with retrofitting their cars with giant speakers. Super annoying for climbers trying to communicate on the wall, but what can we do?

If you don't have the guidebook, install the Mountain Project ("MP") app and download Mexico. If you have the guidebook, install the app anyway for more intel. Our general advice:
Have a plan B and C. There are so many climbs here that it's not worth waiting for parties ahead of you. If there's one party, then okay, but more than that, come back another day. Even with one group ahead, it will suck when they rappel over you.
Bring your headlamp. Some approaches are sketchy and you don't want to be caught without light.
Have fun! This one goes without saying :).
We loved these climbs:
Satori - Highlight of the trip! Seven pitches of fun, varied, moderate, and well-protected climbing with stunning views and in the shade all day. I led the two earlier 5.9 pitches, but then my feet pain took over, so Moritz led the rest. We loved ALL the pitches. Slab, traverse, one steep section, cracks, stemming, jugs, crimps, exposure, sketchy hike in, it had it all! The hike was steep and whoever developed these trails did not believe in switchbacks. You want to get to the right of El Bobo. When you get to the scree, gain better footing by climbing the larger rocks on the left/right sides. Look for the cairns. Start early.
Dope Ninja - Glorious alpine fun. It deserves at least four stars, in my opinion. Walkies (or as my Asian mother calls them, "talky talkies") are HIGHLY recommended. It was windy, misty, and the route meandered. As a result, we didn't see each other and definitely couldn't hear each other with all the other parties yelling in the area (again, acoustics were top-notch). We also didn't link any pitches. For the traverse pitch (Pitch 4), extend as many bolts as possible with slings. The group ahead of us got their rope stuck and the follower had to ascend the rope. At the anchors, the rappel anchors for Snott Girlz is around the corner TO THE RIGHT. The group ahead of us somehow down-climbed to Madre and rapped that route instead. We met at the bottom and they said they had a bad time.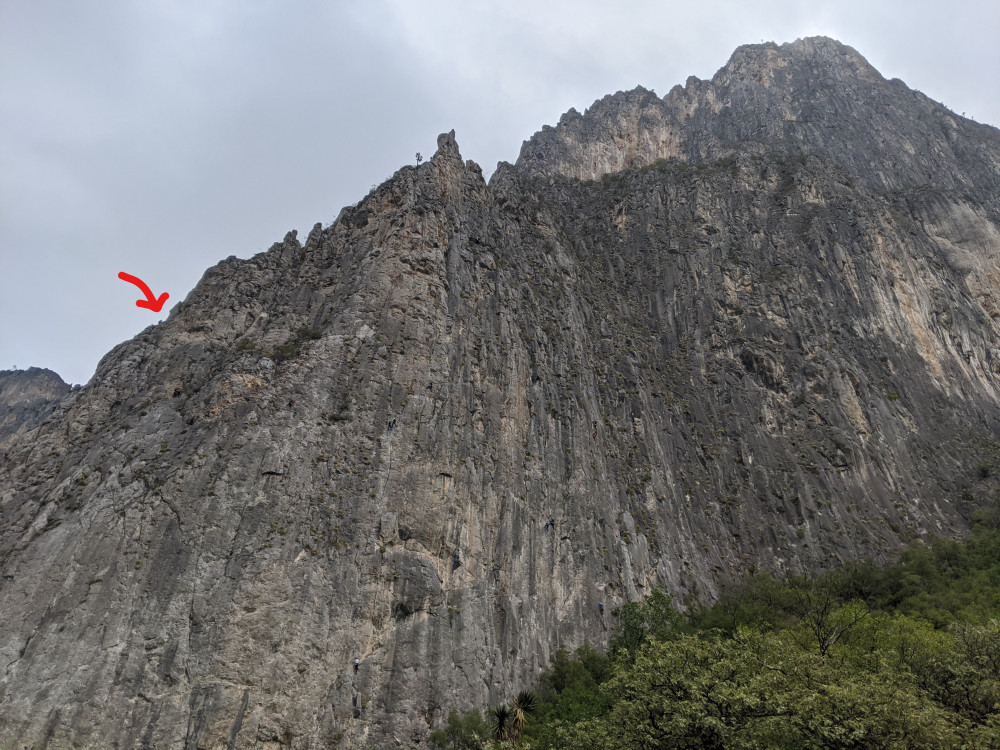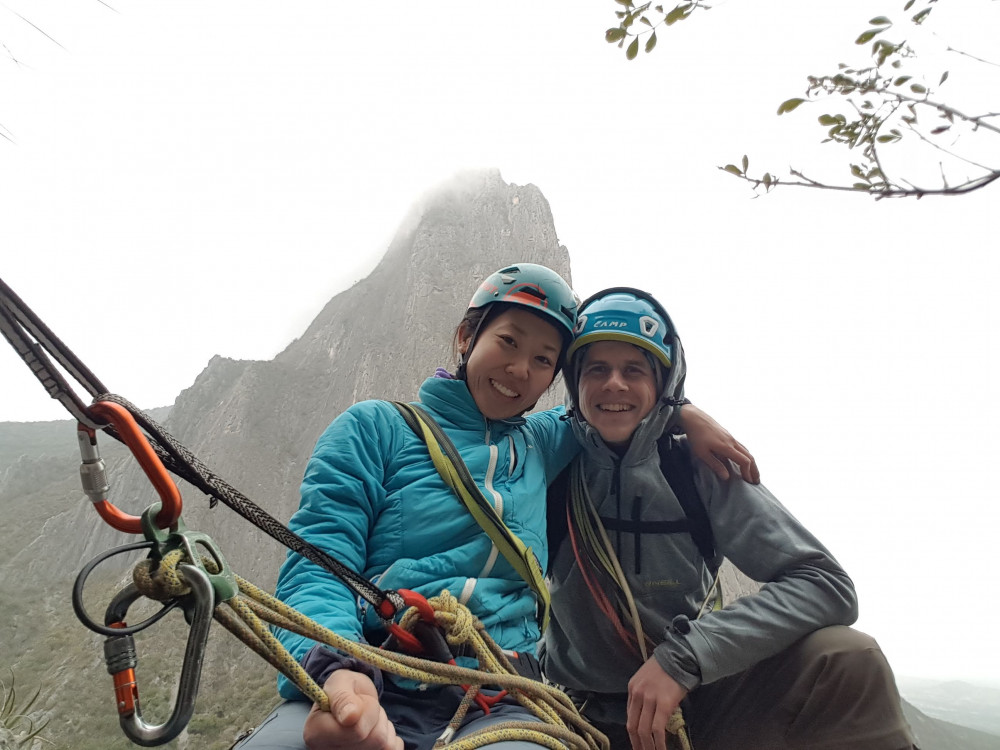 Aguja Celo Rey - We HAD to climb this, mainly because it was called Chico Spire, but also because we rarely get to climb spires! Moritz was a champ and led both pitches. Yes, it was a little runout and neither of us could figure out the crux move on the first pitch (we aided through that section), but the runouts all climbed at 5.8 or below, in my opinion. Commenters on MP suggested bringing cams/pro for this climb, but we disagree. For the first runout before the "eye", you have tonnes of jugs and great feet on slab. For the second runout over the eye, the right crack has a notch where you can loop a sling. Peeping through the eye was super cool and the exposure on the top pitch would have been terrifying if it wasn't for Moritz distracting me with conversation throughout. When rappeling, be careful to not throw your rope through the eye.
Here's us in the saddle of the spires (you'll have to zoom zoom in).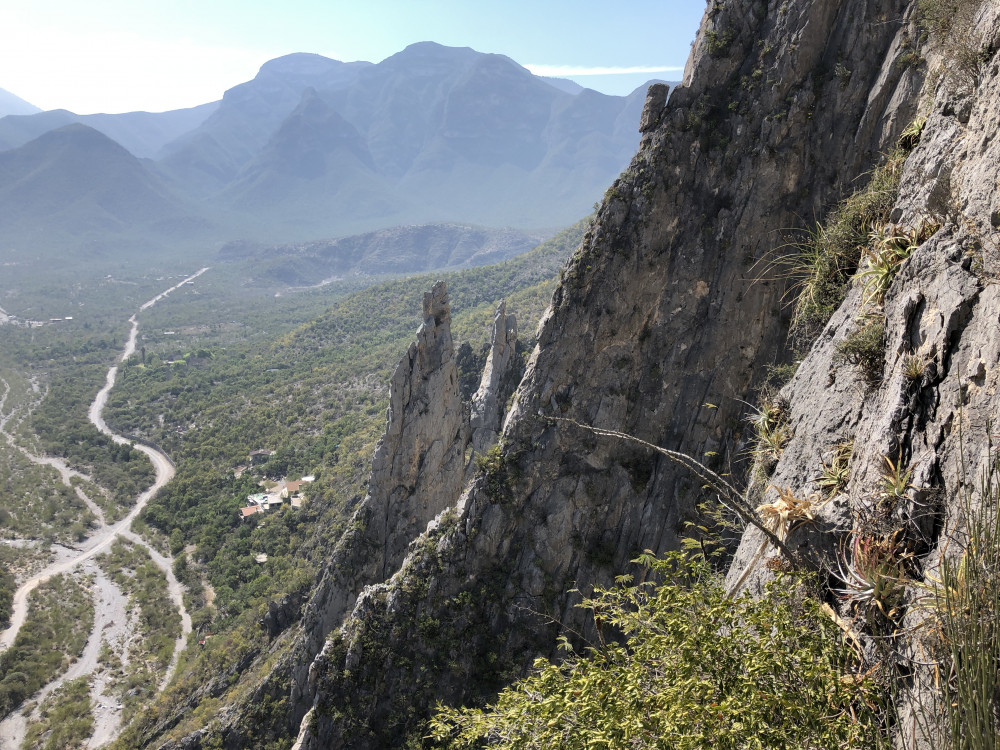 Flight Delays and Compensation in Canada
This probably warrants an article on its own, but I wanted to share our story quickly.
We had to fly from Toronto to Chicago, and then Chicago to Monterrey. Our first flight was delayed a few hours due to the maintenance crew not plugging in the plane to shore power. You know how your car battery could die if you leave your lights on overnight? Yeah, that's what happened to our plane.
When boarding was delayed, the pilot announced the situation and said, "We've got someone uh, familiar with installing batteries and he's looking into the matter." Was this a mechanic? Or just some dude looking up YouTube videos while he juggles the manual?
This delay kicked into gear the Air Passenger Protection Regulations, which outline requirements the airline is supposed to follow, and any rights the passengers may have. Our circumstances were "within the airline's control," but what was unclear was the amount of compensation we were entitled to.
The delay of our first flight fell into the first bracket, which means we get $400 in compensation. However, if you take into account our entire trip, we were actually delayed almost 12 hours in getting to our "final destination," which meant a compensation of $1,000.
United Airlines is currently refusing to compensate the full $1,000 because they are in a dispute with the government over the definition of "final destination." Their argument is that the regulation covers only flights to, from, and within Canada. Our connection was within the US to Mexico, so the regulation is null at that point.
We are of the stance that since we made this contract with the airline within Canada, and they are choosing to operate within Canada, that they are legally required to abide by all regulations here which protect the consumer. Bending the definition of "final destination" to their favour goes against the spirit of this regulation.
We've also clarified that should we accept the $400 compensation, we'd still be entitled to further claims once the dispute clears up. However, they've been unable to advise us on a time (fair), but they have not implemented a follow-up process (unfair). It will probably end up falling onto us, the consumer, to follow-up and request information.
In all fairness, it's not only United who is accountable here. I don't think the Canadian government did a good job of coming up with the regulation as the formal complaint process was not well-defined, nor were all stakeholders properly educated. The staff at the gate failed to advise us that such a regulation existed, despite it being a requirement within the regulation. Overall, it just seems like everyone is confused, especially with how to enforce the rules. All this being said, I recognize that this is new and we are in an adjustment period, so I'll digress.
Just be wary when you travel next and know what your rights are.
Savings Update
With the longer February behind us now, how did I do savings-wise?
$3,046!!!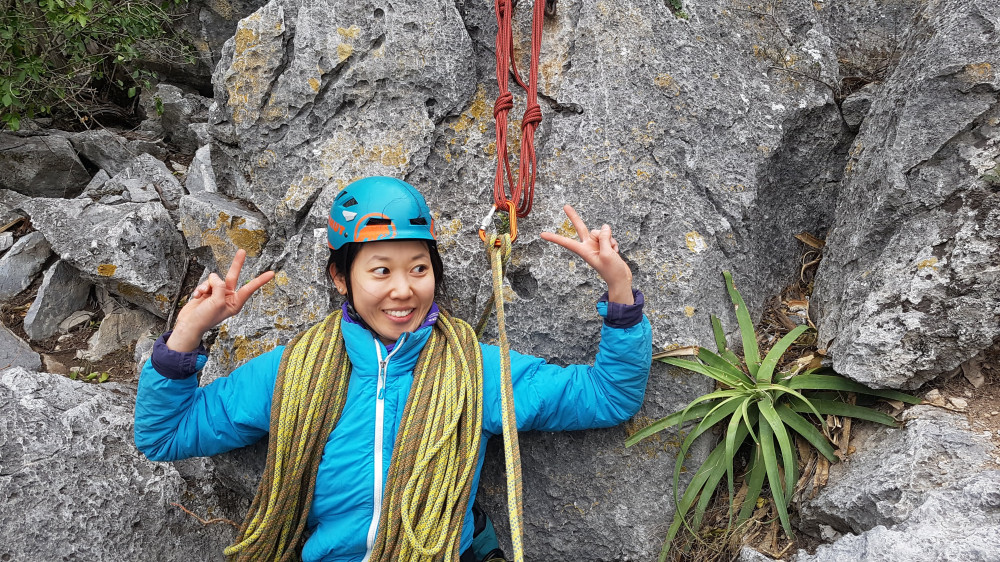 This amount excludes some IOUs from friends for the trip and the compensation for our flight delays, so they will come through in March (I track on a cash basis so I don't have to reconcile my bank account).
You can get a live update on my Savings Goal page, which is also located in the menu now. This is my PUBLIC COMMITMENT, so I can't fail now. Although, I'm starting to think I went a little too easy on my goal, so after March, I will re-assess. I have to admit though, it's been really draining having to penny pinch everything, so I may ease up a bit this month.
Hope you all enjoyed this read and learned something new, whether it be about climbing, flying, or money-things.
Next post will be a brief talk about our Project Plan. I'll be sharing that with you as well so feel free to take copies of my stuff if they help!
Cheers,
Sachiko (& Moritz, who was away ski patrolling, but edited this with me after)