Let's Talk Money (Part 1)
The biggest question has always been, "Can we afford it?"
As with any good budget, we needed to know two things:
Income
Expenses
Which translates into:
How much money do we have?
How much money do we need?
We hopped back and forth between the two until we were able to triangulate towards a "Yes!". Once it was more likely than not that we could succeed, we dove into figuring out the costs.
How Much Money Do We Need?
At a high level, we knew there were the costs to build out the vehicle, but the costs of taking a one-year journey was murkier. We also had to consider other life milestones we were saving for: potentially a wedding, hopefully a house, maybe a baby, and definitely, retirement. Tossing all of these into the mix made it challenging to plan for, but the exercise was eye-opening and built a lot of trust between us. Finances can be a hairy topic for many couples, but we were very transparent and honest throughout the process.
Costs of Building a Camper
Let's break it down:
Vehicle
Solar
Electrical
Plumbing
Bathroom
Structure
Miscellaneous
Kitchen
Interior
For the TL;DR, here are some graphs.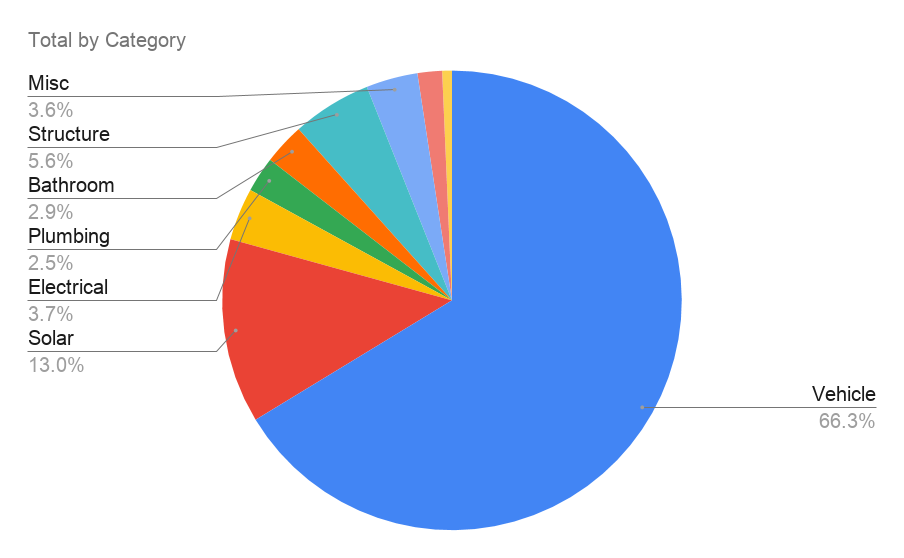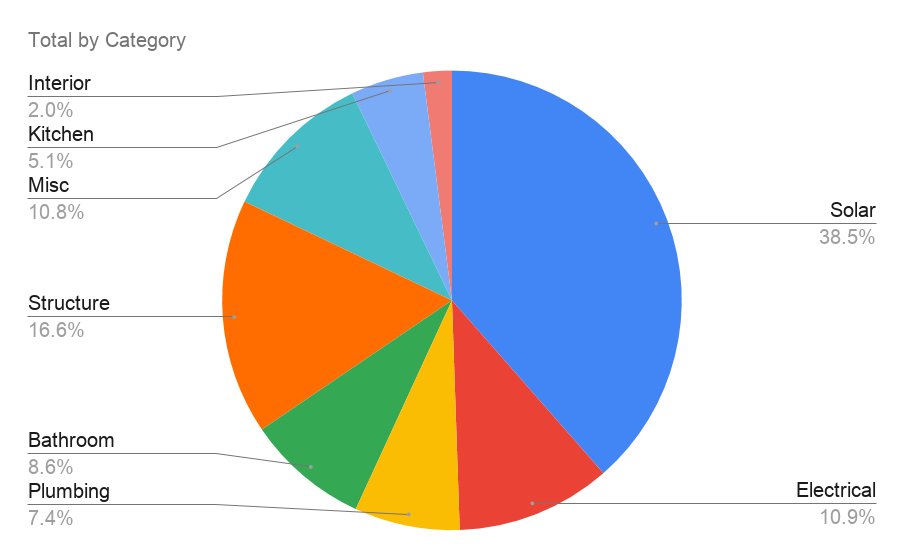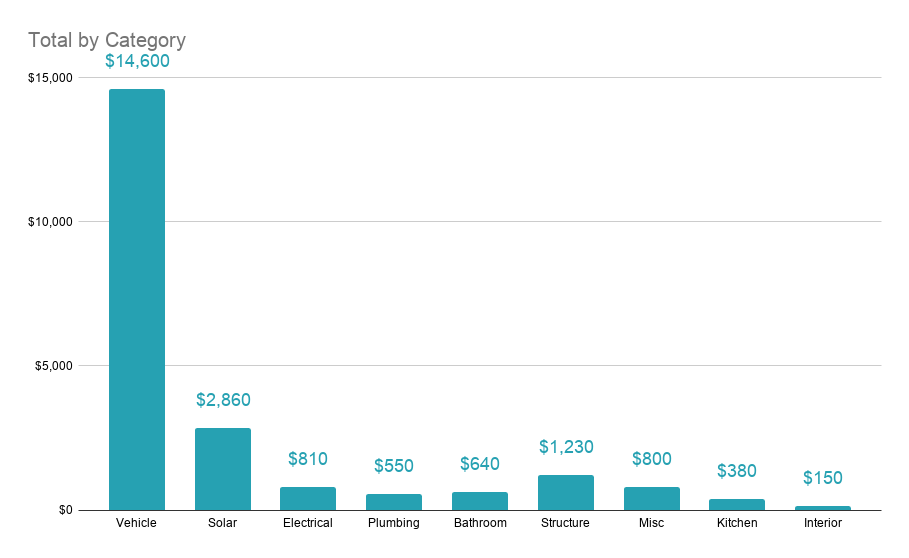 Vehicle - $14,600
This category blew up QUICK. When we first started thinking about this last summer, our initial, conservative figure was $35,000. Then we backpedaled a bit and thought maybe we could do it for super cheap, in the realm of $10,000.
Wishful thinking.
The current costs are based on if we go with a box truck rather than a Sprinter. Sprinters are HELLA pricey! Mercedes ones anyway — we'd probably go with a Dodge Sprinter, they're the same just different badges.
We've budgeted $9,000, tax-in, for a 12 ft. box truck, either Isuzu, GMC, Mitsubishi, or something similar. Seeing as our trip will be 15,000 to 20,000 km (9,300 miles to 12,400 miles), the vehicle can have high-ish mileage, 200,000 to 300,000 km so long as it's in good condition. We've factored in $3,000 of repairs based on the cost to replace an engine, which is the most expensive part.
If we get the truck at an auction, we'd have to tow the vehicle to a mechanic to get it certified and tested, adding $800 or so. We'd likely keep the vehicle on the road, so it must be insured. We've ballparked $1,800 for the year and we're looking into the differences between personal vs. recreational vehicle insurance and requirements. This brings us to a total of $14,600.
Solar - $2,860 | Electrical - $810
Moritz is the brain behind the rest of these sections, so I will purely be speaking from my very layman perspective.
How we decided on solar was first, by figuring out what we needed to power. The most energy-intensive item is going to be the fridge, but everything needs a little bit of power from the obvious, like charging our devices, to the less obvious, like running the fans.
We sat down and went through an entire list of items that needed energy to determine:
maximum daily energy consumption
maximum power requirement
The maximum daily energy consumption is how much energy we would possibly need in any given day. This is if we have a bad day and need to keep the lights on and run the heater for five hours. On an average day, this is closer to two hours.
The maximum power requirement is the peak power we'd need at any given point in time to keep all the electronics on without blowing the fuse.
After a long and detailed conversation with Moritz, here's the ELI5 ("explain like I'm five") version. Essentially, we need a way to generate, convert, transfer, store, and manage electrical energy. That's the role each of the cells, charger, wires, batteries, and battery management system play.
The costs are based on if Moritz builds the entire system himself. We may be able to save on the batteries if we can find them used. On the other hand, purchasing an off-the-shelf solution could add $1,500.
With respect to electrical, the $500 for cables and wires is a rough estimate. Wiring for the solar installation will be the most expensive part and Moritz isn't quite sure what the scale of this will be. The cables and wires have to be thicker to handle the high current coming to and from the battery. The length of the wires will be the main driver of this cost.
Plumbing - $550
We plan on purchasing the water tanks new for around $250. Tubes and pipes of $100 are estimates based on market price and estimated length. Hardware and connectors of $200 is pulled out of thin air! If we get lucky, we may be able to get some of these on Kijiji.
Summarizing it like the solar installation, our water system requires:
Storage - freshwater tank
Transport - pump, pipes, valves
Waste - greywater tank
We will need water for the kitchen sink and the shower (if we build it).
Bathroom - $640
Shower
Originally, I had imagined a dinky little van where we would dirtbag all year long. Moritz, however, had this grand dream of a box truck the size of a small Toronto condo, which would fit a shower. He's still keen on the idea for when we go to remote places, but we will see how this pans out.
The most expensive part is the shower at $400. This is based on the shower kits we found online. We would get warm water on demand from the propane heater. BUT! We are toying with the following ideas to cut down on costs:
Building the stall ourselves with plastic panels, epoxy base, etc, and waterproofing
A "half" wet-room for sponge showers (I grew up taking bucket baths, and this will also save us so much water)
Outdoor shower of some sort, but we could also have this be a dual-feature
Cost vs. benefit and maybe we get a gym membership with shower access for the year instead
Toilet
According to other van-lifers, a composting toilet does not smell. I'm not sure I believe them, but we'll have to see. Moritz is starting ski patrol soon, so this will be my little winter pet project to get familiar with the tools.
I'm literally building a treasure box with a hole, toilet seat, a modified sitz bath to separate liquids from solids, and a bucket-drawer combo for easy waste removal. Oh, and a little crank to stir our shit.
Structure - $1,230
Half of the costs will be for lumber and the other half will be for windows. We tried to overestimate the lumber, which will mainly be 2x4"s used for framing.
We definitely need a door and we'd like to have at least two windows. Surprisingly, there are a tonne of RV windows available for sale on Kijiji, but we may have to build the door ourselves. We've budgeted $500 for this, but again, it's a fluffy estimate.
There will be two roof vents, one to ventilate the shower and one in the living quarters.
Kitchen - $380
This estimate seems low, doesn't it? We think we can hit this target buying used furniture and appliances, repurposing furniture we already have, and custom-building any other pieces we'll need.
Did you know, you can get a faucet from Ikea for $30?!
From our camping experiences, I think we'd rather have a portable cooktop and use the smaller camping version indoors on bad days. This significantly reduces our costs from $400+ for a Camp Chef stove/oven combo to $80 or so.
Those of you who are close to me know I've been baking out of a toaster oven (if there's a will, there's a way!). Moritz is convinced we can bring this with us so I can bake banana bread on the road.
Misc - $800 | Interior - $150
The heater and backup cam are nice-to-have's, so we're not dead-set on getting them just yet. Moritz is scouring Kijiji, eBay, and local auctions for used tools and hardware so we can save on costs.
Paint-wise, we're thinking white for now to keep it simple. We think this will be a good complement to the wood accents we are thinking of. We have access to a sewing machine, so curtains will likely be handmade by me. As handy as Moritz is, he cannot sew straight lines if his life depended on it (even though he taught me how to use the sewing machine…).
Grand Total - $22,020
We're trying our best to reuse and repurpose as many things as possible. Not only will this help save on costs, but it will also minimize our impact on the environment.
Up Next
We'll share our anticipated costs of living for the year based on other van-dwelling veterans, tailored to our habits and lifestyle. The goal is to live on as little as possible while maximizing our travel, climbing, and outdoor experiences. Following that, you'll get a peek into our spending habits and how we plan to meet our savings goal to fund this build!