Let's Talk Money (Part 2)
In Part 1, we discussed how much money we needed to build the camper. In Part 2, we will be talking about how much money we'll need to spend one year on the road.
Choosing a Framework
I had a hard time coming up with one budget because there were so many variables that could skew each category. I needed a framework to guide my thoughts, so I settled on three cost scenarios:
Highest

Realistic

Lowest
It's self-explanatory, but Highest is the most we can expect to spend; Realistic is what we're likely to spend; and Lowest is the bare minimum we'll need to survive.
Categories of Costs
I looked at our current financial budget to see what we are currently spending money on, then added on-the-road-related expenses that we expect to incur each month:
Variable Monthly Costs

Fixed Monthly Costs

Gas
Vehicle repairs and maintenance
Food
Accommodations
Discretionary spend

Car insurance
Medical and travel insurance (2 people)
Phone and internet
For the TL:DR, here are some graphics: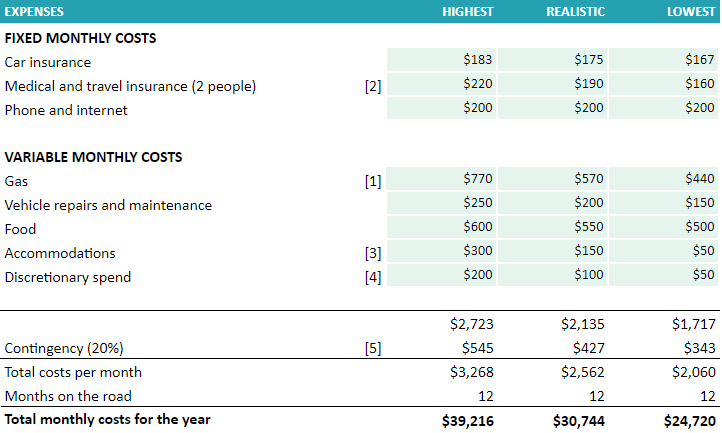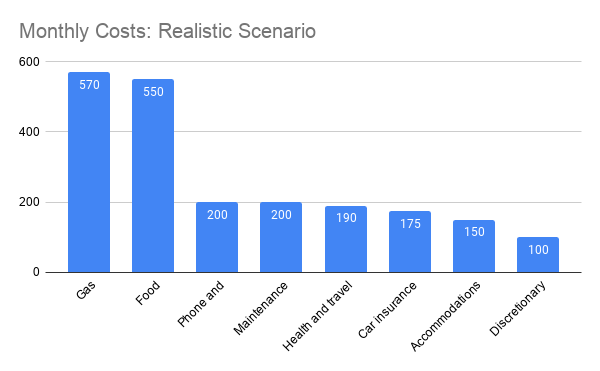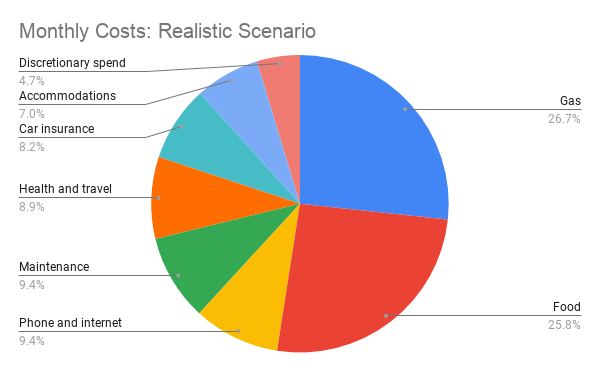 The amounts below will be based on our realistic spend.
Variable Monthly Costs
Gas - $570
The cost of gas is directly proportional to the distance we will be traveling. There are three
What is the distance we will be driving?

How much does gas cost?

What is the fuel consumption of the vehicle?
Answering A took a bit more work than I anticipated. I needed to map out our route and then make sure it fits our timeline. Since we were chasing good weather, we had to consider when was the optimal season to visit each destination.
Using Google Maps, I dropped pins in the general locations we wanted to travel to, aiming for the furthest destinations on the map. Beginning in Toronto, out west to Whistler, south to San Francisco, southeast to El Portrero Chico, northeast to Red River Gorge, continuing on to Maine, then back to Toronto.
Our approximate trip distance, based on the above route, is 16,000 km. I used a multiplier of 1.2x to arbitrarily come up with the distance for Realistic and Highest. Plans are made to be broken, so I know our initial estimate is likely the minimal travel distance.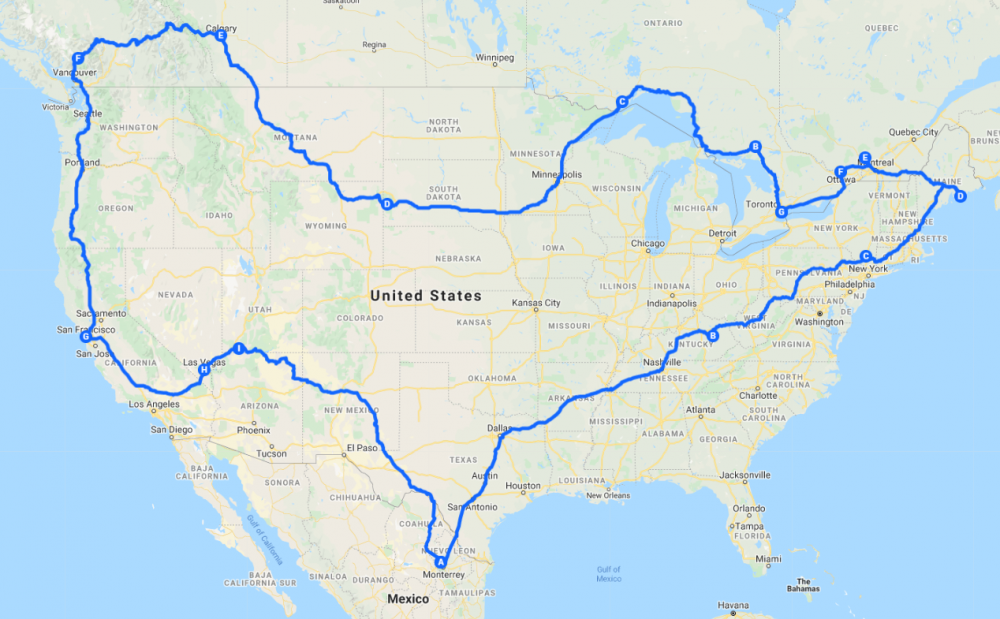 Initially, I excluded the distance for daily driving, but had the foresight to see if it actually made a dent into our costs. I chose the place I knew best, Red River Gorge, and found the distance between Miguel's and Muir Valley. (Red River Gorge is one of the top climbing destinations in the world. We do a bi-annual pilgrimage to this place and usually stay at Land of the Arches or Miguel's, which are both very popular campgrounds. Muir Valley is one of the many climbing crags.) This ended up being 15 km, so round-trip at half the days in a year added over 5,000 km to our distance. That easily added 38% more to our distance, so I'm glad I included this from the get-go.
For gas, I looked up gas prices at a station near Smith Rock in California then tacked on the Canadian exchange rate of approximately 1.3. I know gas prices are more expensive in British Columbia, but we'll hopefully balance that out with some time spent in Mexico. Gas is also generally cheaper in the US where we'll be spending most of our time.
Mileage will fluctuate significantly between city traffic and highway traffic. On the U.S. Department of Energy website, I found that the lowest mileage ratings for similar vehicles to be 26 L per 100 km (or 9 MPG). During our test drives of a potential vehicle, it chugged along in rush hour city traffic between 20-25 L per 100 km, which was close to our estimates.

Overall, this brought us to an estimated, monthly variable cost of between $440 at the low end, to $770 a the high end.
Vehicle Repairs & Maintenance - $200
We won't know what vehicle maintenance will be until something breaks down or needs fixing. Moritz is handy, so we were hoping to be able to do oil changes ourselves. BUT, if we end up going with commercial auto insurance or a vehicle warranty, we may have to get oil changes done at a shop to keep our insurance/warranty valid.
To be honest, this was a super arbitrary number and falls in the range of what we've seen on other van dwellers' blogs (e.g. Far Out Ride), but their vehicles are different and we're being mindful of that.
Food - $550
I got this on lock. In an average month, we spend at most $20 per day feeding the both of us. Before leaving for vacation on Jan 24, we were averaging $12.81 per day for the BOTH OF US. These are highly nutritious, homecooked meals, with at least one serving of fish per week, AND two meals where we went out to eat with friends.
Moritz eats more meat than I do, but he aims for one meal of meat per day and veggie otherwise. We both skip breakfasts and I'm very fortunate to work at a company that provides veggie platters, hardboiled eggs, and a tonne of snacks. We often go meatless for a few days at a time, especially if we're working from home and cooking fresh meals at lunch.
You can take the boy out of Germany, but you can't take the German out of the boy—this $20 budget includes a tall can of German brew. More to come about this topic in our next post about how we save so much on food expenses.
The High category is for if we go out to eat a bit more, Realistic is if we maintain current habits, and Low if we are on our best behaviour and cook all our meals and incur zero waste.
Accommodations - $150
The goal here is to approach nil. If our house is on wheels, we shouldn't have to pay for any accommodations! But we both appreciate our creature comforts, which may include a regular bed, hot shower, and a real toilet every so often. Depending on where we stay as well, we may have to pay campground feeds. At the high end, we'd be spending 15 days at a campground each month at approximately CA$15, plus one airBnB night; realistically, we'd aim to spend 7 days max at a campground, and one airBnB night every other month. On the low end, 3 campground days, and one airBnB night every quarter (or 3 months).
Discretionary Spend - $100
We know there will be good and bad days with the weather, so some days, we might just have to be indoors doing a paid activity. We'd also like to go visit some indoor gyms, such as Chris Sharma's Sender One and Dogpatch Boulders (where I climbed when I lived in San Francisco), so this bucket captures these expenses
Fixed Monthly Costs
Car Insurance - $175
Folks, I don't even want to talk about this one. This was our first, true obstacle of this adventure and warrants its own article altogether. We are still trying to get our potential vehicle insured, but our personal auto insurance refuses to insure it because it is rated as a commercial vehicle in their systems. However, it is NOT a commercial vehicle according to the Ministry of Transportation Ontario (which provides our vehicle registration) and the Canada Revenue Agency, which is why we wanted it in the first place.
Again, this is currently an arbitrary figure – I took our current auto insurance of $1,500 per year and tacked on a conservative premium, bringing me to $2,100. Over 12 months, this is $175.
Medical and travel insurance (for 2 people) - $190
Another hairy piece. I hate insurance. Medical insurance in the US is exorbitant! We've heard all sorts of horrifying stories of people losing basically everything because they were hospitalized after an accident. We're European and Canadian, so obviously, we have strong opinions about American healthcare, but we won't go there.
We used World Nomads to do a quote for the two of us, making sure that we were covered for rock climbing. This came up to an insane amount of $2,280 for 9 months of travel. I'm tired of researching this piece, so I'm going to leave this for now at $190 for the sake of completing this first budget draft. I'll still need to consider our travels to Mexico and Cuba.
Phone and internet - $200
This one was the simplest to budget for. Two phone plans (CA$65 per month) plus a Verizon wireless plan for the US to tether. Not much fluctuation is expected, so no variations between the scenarios here. Likely, we'll be able to lower this cost when we get around to deciding our US plan and what to do with Moritz's phone number (I intend on keeping my phone number and preserving my Canadian phone plan).
Contingency - 20%
Because I'm an accountant.
But really, we're both conservative and want to be prepared for unexpected costs. Using 20% seemed like a safe number.
Grand monthly total - $2,562
Our initial reaction was that this total seemed high. Isn't living in a van supposed to save you money?
Currently, we spend a similar amount before accounting for discretionary spend such as shopping, entertainment, and travel. This is the biggest category we are saving on while being on the road for a year. Including travel, our monthly expenses average to over $3,000 for the two of us.
Moritz also made another observation, "It would be cheap if we didn't travel with it." :D
Sachiko, "I'm pretty sure we'll be able to beat this budget."
Moritz, "I sure hope so!"
Otherwise, we're happy with our preliminary budgets and are confident we'll be able to beat the budget some months!
Moritz, "Ja, some months for sure!"
(Moritz is my editor, ahem, QA, and lurks over my shoulder for every post. We call this "teamwork".)
Stay tuned for our next post where we'll talk about our stretch goal (to save even more money!) and how we plan on funding our trip.