Let's Talk Money (Part 3)
Hey everyone, it's Sachiko here. I know we've taken a bit of a finance detour on this blog, but HOLD TIGHT, some real van-related things are a'coming. I promise you, less bean-counting days are nigh.
This brings us to our third and final part of our finance trilogy:
How are we going to fund all of this?
Now, we're getting into our personal budgets and spending habits. This is a bit of a vulnerable subject for us seeing as money is a taboo topic in our society. We're going to try our best to be transparent to show people that adventure years are possible despite all your adult responsibilities.
Our Financial Story
When you need more cash, you can either:
Increase your income, or
Decrease your expenses
Neither Moritz nor I are good at making money (I often give away tax advice, accounting expertise, and food for free—classic ESFJ syndrome).
BUT luckily for us, Moritz is German (and if you don't know anything about their obsession with saving, check out this lovely read here on the Financial Times) and I'm all the "fancy" Asians (plus one jungle Asian, in the words of Ali Wong), which some people interpret as "financial savviness"—read: frugal and borderline stingy (nowadays).
Not gonna lie though, it took me several years to get to this stage. When I got my first job after graduating from university, I moved in with my previous SO (significant other), spent a lot of money on dining, travel, and experiences to make up for what I felt I'd missed in my childhood. I didn't really develop proper money management skills until my we split up, forcing me to pay rent on my own.
That was only 3 years ago.
The only thing I have to show from those years is having paid off my maxed-out student loans (obviously with my ex's support because he was generous enough to take on the rent, our biggest expense, while I took care of almost everything else).
The savings I've amassed in this short period of time goes to show that you can have a lot in a few years if you start today. Which brings us to punto numero dos above: decrease your expenses.
How to Spend Less and Save More
Before we begin, let me set the stage. Most of the points below will be from my perspective. I think our North American audience can relate to my profile better (sorry, friends from Europe!). For example, Moritz getting free post-secondary education in Germany JUST ISN'T A THING HERE in Canada or the US.
(Also, he doesn't track his finances like I do.)
(Moritz: …Nobody does it like you do.)
Let's start with a snapshot of my spending over the past 3 years. I track everything using Mint and Google Sheets.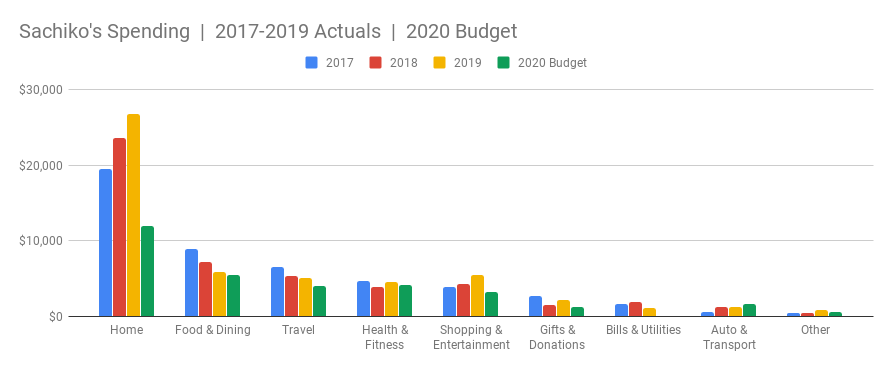 So, how do we go from 2019 actuals to our 2020 budget?
Let's break it down.
Home - ↓55%
How?!?!
Well, if you saw our place, you'd understand. We live in a cozy basement unit and I, myself, being just shy of 5' 6", have SMASHED my skull into parts of the ceiling bulkheads several times. Fist pumps, warrior ones, and spontaneous, upward bodily movements from excitement, fright, or surprise are prohibited in our space.
When it came time for us to decide where to live, we had two options:
Cheap basement unit with zero frills (Moritz's place), or;
Pricier condo with some amenities (Sachiko's place).
We were methodical about this process and ran trials at both of our places, eventually settling on a few non-negotiables including commute time, walking distance to grocery store, and nearest climbing gym. With Moritz's place allowing us to cut down on rent by over 50% and it meeting our non-negotiables, we chose to consolidate into Moritz's tiny basement unit.
But this decision didn't come without its downsides. The most annoying things are not having an oven and crappy cellphone reception. I've had to put baking, which is a huge passion of mine, on the back-burner because it's grueling and stressful baking in a toaster oven. I've made it work though, catering parties for about 50 people, but the amount of time and planning was quite something!
Nonetheless, these are compromises we're willing to make to achieve our long-term goal. I'm a big believer in, if there's a will, there's a way! Cost of housing is easily anyone's largest, fixed, and non-discretionary expense, so cutting this one down will have the most meaningful impact.
[Unplanned update: While writing this post, our landlords let us know that they wanted the space back by year-end, so we're right on schedule with Chiko's annual moving tradition. More on that to come...)
Chiko's Tips
Drill down to what matters to you most and figure out ways to work around everything else. We've gotten rid of a lot of stuff, we bring food to cook at friends' places instead, and we spend more time outdoors.
Get a roommate! We became each others' roommates, but we moved in together because we felt ready in our relationship, not because we wanted to save money (this is a BAD idea to bunk with your partner).
Switch up your neighbourhood. We live just outside of the city and even auto insurance is over 15% cheaper than a downtown address.
Bills & Utilities - ↓100%
We re-negotiated our lease as well to have utilities and internet be included so that we could normalize these costs and budget more easily. It is now packaged into our rent. Otherwise, my phone has always been covered by my employer.
Chiko's Tips
Wash laundry in smaller loads more often and air-dry. My bill went from $75 to $55 after I started doing two loads a week and skipped the dryer.
Use electricity during off-peak hours. The price for electricity is more than double during on-peak hours, so aim for the weekends or evenings to cook or do your laundry.
Food & Dining - ↓6%
My love for this category is two-fold:
Control - This is easily the budget category anyone has the most control over.
Impact - When I've got this category under control, my diet, health, and physical performance are also at their best.
My spending comparison shows a year-over-year decrease of 6%, but my 2019 numbers do not include Moritz's spend on food whereas my 2020 budget includes feeding him as well.
On average, he used to spend $60 per week on food, times 50 weeks, that's another $3,000. The consolidated decrease is more like 38%. Another caveat is we visit my parents every other week and with all Asian parents, they stuff you full to the brim with food and then force you to take some home. This is 1-2 additional lunches for each of us.
Let's visualize my Food & Dining spend further: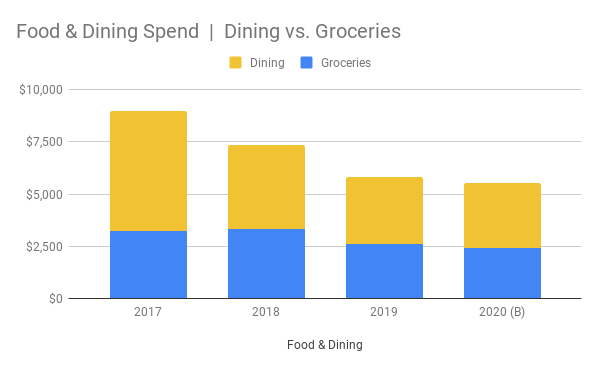 We all know this, but here it is again:
Going out to eat is expensive!
I was pretty amazed when I saw this graph. Most of us know that dining out can add up quickly, but we don't pay attention to how significant it can grow. I've really cut down on this over time and clearly, we still go out a fair bit. The one rule now is we have to eat with friends. Again, keep in mind that 2020 is feeding the both of us and not just myself. The scale of economy when it comes to groceries is unmatched in any other category.
In January, our actual food spend was $396 for the both of us and this included 4 restaurant meals for myself (Moritz only went out twice), a meat-frenzy week of pork chops, beef, and chicken wings after eating too much rabbit food (I'm not proud, but it was much needed—I felt human again after), and 1-3 alcoholic beverages a week for both of us. Oh, and weekly servings of wild-caught Alaskan salmon for those sweet, sweet Omega-3's.
Chiko's Tips
Eat more plant-based meals. This made the most difference to our grocery tab. A pack of 4 chicken breasts is easily $12 compared to some queso fresco and beans, which would cost $5.
Costco's day-old roast chicken for $6.99. Yeah, you saw that right. They put these in the open fridge and is $1 cheaper than their freshly roast chicken. I remove the meat from the bones and make 4 lunches for Moritz, completing them with mashed potatoes/orzo/quinoa and veggies. Bones become a classic chicken noodle where I purchase carrots and celeries in larger bags and then turn those into soups as well (roast carrots + sweet potato + coconut milk and cream of celery + potato). Average cost? $1.80 per meal.
Don't overeat and pack restaurant meals to go. I'll pack half my meal and stretch it out into a few more meals if I can. My favourite is taking home curry and adding broth and coconut milk/dairy cream, then serving it over rice or paratha alongside a salad.
Travel - ↓21%
The way I travel drastically changed in 2018—you can see this is where the downward trend began.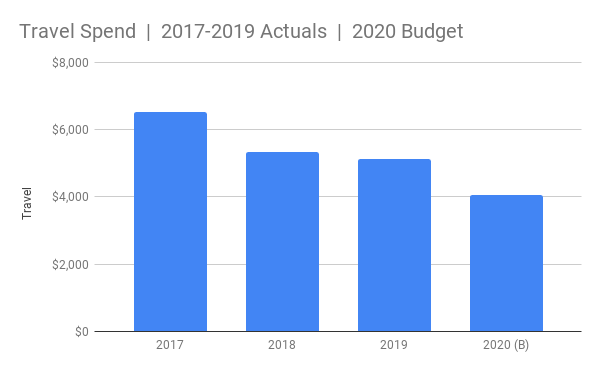 Rather than travel for the "gram", i.e. for novel experiences that are Instagram-worthy, I wanted more meaningful, purpose-driven experiences; collective moments that culminated to something much more, with deeper relationships and longer-lasting memories.
In the summer of 2017, I lead-climbed for the first time at Mount Nemo just outside of Toronto. I fell in love with the sport. Unbeknownst to me then, my entire life would revolve around rock climbing with the first major change being my travel habits: all extensive travel must have a rock climbing element.
The wonderful thing about climbing trips is, there aren't many additional expenses aside from transportation, be it flights or fuel. Accommodations are cheap as we often choose to camp to be closer to the climbing area. We'll stay at an AirBnB on the last evening to freshen up if we are flying. For food, we try to cook as many meals as possible. Plus, we're often traveling in groups, which means costs can be shared further. We've found some awesome, more local spots to visit and climb at and these are within driving distance. These places rank nowhere near my previous "IG-worthy-locales", but damn, if I could trade some of those moments for the adventures we've had since, I would!
Don't buy yourself fleeting moments—make your life full of those unforgettable, candid, and wholesome moments that money can't buy.
Chiko's Tips
You don't have to travel the way we do, but there are small changes you can make that will save you money without compromising on your travel experience.

A typical vacation...
A thoughtful, budget-friendly vacation...
Dinner for two at a Michelin-star restaurant
$500
$200
Eat like the locals! Cooking class with food tour for two
One night's stay at an AirBnB in the city
$150
$72
Live like the locals! AirBnB in a residential neighbourhood, plus transit costs to get downtown in 15 minutes
Buy breakfast, lunch, and dinner for one
$50
$20
Explore the local farmers' market and cook instead
Health & Fitness - ↓9%
Not much compromise here. I value my physio and gyms, but I made sure to trim down on unnecessary memberships. I went a little crazy in December and January to jumpstart my workout routine again. I had ClassPass, Goodlife, 2 climbing gym memberships, and passes at 2 other climbing gyms.
I've since cancelled one of my climbing gym memberships and reduced my ClassPass credits. In March, I will reduce ClassPass even further and start practicing yoga by myself again at Goodlife.
For our winter sports, Moritz is a ski patroller so we have free access to the slopes he volunteers at.
Chiko's Tips
The learning lesson here is, you only have so much time. Especially with fitness, you're better off optimizing your time and energy and giving yourself recovery periods to prevent injuries. I overloaded in December and royally screwed up my shoulder for a couple of weeks AND I saw zero gains in performance. Now that I've dialed it back, I'm seeing improvement again. I know it's hard, but proper rest is part of a good training regimen.
Shopping & Entertainment - ↓41%
I want to start by saying 2019 was an anomaly year. I replaced a number of items, all of which I only had one of and they were "expired" (e.g. harness was 5 years old) or completely worn out (e.g. hiking shoes were 7 years old and they were my first and only pair).
I don't have any groundbreaking tips here besides the obvious: buy only what you need.
Chiko's Tips
Imagine you want to buy the new Fitbit. Picture wearing it on your wrist and how that makes you feel. Then, picture the Fitbit poofing into a wad of $145 in cash. If you'd rather take the cash, then you probably shouldn't buy the Fitbit.
Gifts & Donations - ↓44%
I spent a boatload of money last year feeding my friends and family.
$996.43 to be exact.
Seeing as I'll be busy with the van, this will naturally go down. I also gave some substantial gifts to my parents, but can't be as generous this year. I've budgeted $100 a month in this category and I'm hopeful I can stick to it.
Auto & Transport - ↑22%
This is the only category going up, mainly because I am driving more while living in the burbs.
We usually commute to work by bike and we each work from home one day every week. Biking in Toronto has gotten so easy. I highly recommend it to anyone who wants to cut down on transportation costs, or even, to simply have a more enjoyable commute (the TTC sucks)!
Chiko's Tips
For Bike Share, a one-year, unlimited 30-minute ride membership is $112, which was what I started out with. If you have a Presto membership, your first year is discounted to $90. During 2018, I rode over 200 times on Bike Share, which is equivalent to $600 of public transit fares. I've since purchased a used bike on Kijiji for $230 to commute further and it's paid for itself already. Plus, you get the added benefit of a workout!
Other - ↓26%
Herein lies personal care and random business charges and fees. Last year, I had a major expense for laser hair removal to make my life easier, which won't recur this year. Also, cutting your own hair is supposed to be fairly easy, so I'll test that one out. I already cut Moritz's hair!
Summary
The overarching sentiment here is spend your time and money on those moments which energize your soul and the rest will follow. Change is difficult, but it's easier if there's a grander goal in sight. Delay instant gratification and keep your focus on the end goal to stay motivated.
Recap of How Much Money We Needed
First, we talked van:
$22,000
Next, we talked costs of living:
$31,000
But what about our savings for that year? I don't want to be behind on my savings goals just because I take a year off.
Let's add to the tab:
$20,000
(Because $10,000/person is reasonable for the circumstances and look, we're not rolling in dough here.)
Grand total = $73,000
Per person, that's $32,500. We have Jan 2020 to May 2021 to save, so that's 17 months. Per month, rounded up, we'll each need to save $2,200 per month. If we scrap the $20,000 stretch goal, that reduces our monthly target to $1,600, which is well within range.
Monthly Savings Target: Minimum = $1,600 | Target = $2,200
January's Performance
If past history is an indicator of future performance, then I'm hoping our outcome in January continues. In the month, I was able to put away $2,300 towards this trip based on my regular income. (This promptly went into funding new tires and other costs for our truck, lol.)
Conclusion
Thanks for sticking it out through this article! We hope you learned something or were inspired to take action to save towards your next adventure. If you've got any questions, feel free to reach out or comment below.
We'll be away for a little bit, climbing in balmy El Potrero Chico in Mexico, but we'll return with our project plan and van reveal video sometime in March.
- Moritz & Sachiko