Woohoo! First Post!
Hello and hallo! We are Sachiko and Moritz. Welcome to our blog where we'll be sharing our journey of building a camper van/truck (TBD) and our one-year climbing adventure on the road. We are located in Toronto (Sachiko, born and raised, and Moritz hails from Munich), so you will see references to the metric system and the Canadian loonie in our posts.
This dream of ours was borne out of our passion for climbing and getting outside. We've happily traded in urban comforts for primitive pursuits, recently wrapping up our SUV rooftop-tent build and road trips.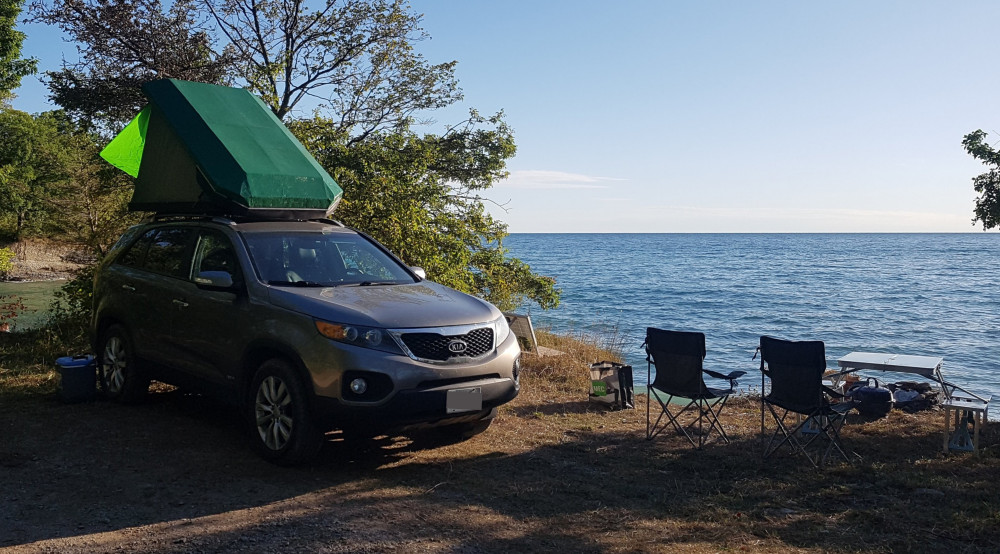 What originally began as a three-year plan (creatively dubbed our "Grand Plan" to friends and family) with several milestones got fast-forwarded to:
"Why can't we do this next year?"
When we realized that:
a) Not only were we emotionally and logistically ready; but,
b) We didn't HAVE to accomplish those milestones before embarking on this adventure.
To clarify, these self-imposed prerequisites were: move out west to Vancouver or Calgary, climb and explore the Rockies and west coast, further our careers, continue saving for the sabbatical, AND THEN build the camper and travel.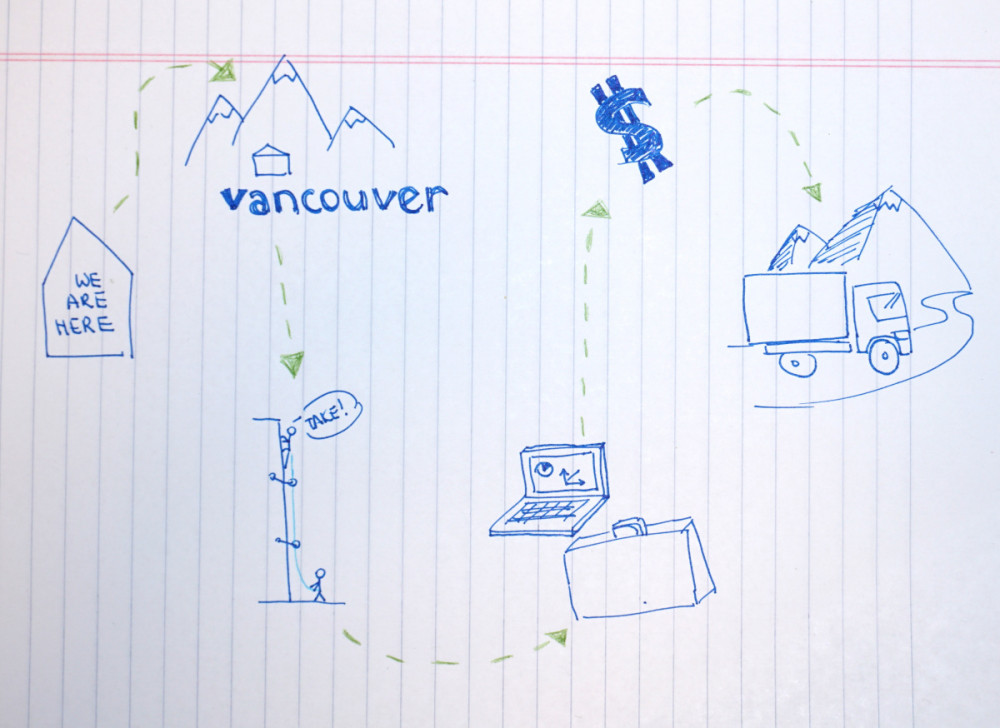 When we distilled it down, what we really wanted to do was just BUILD CAMPER, TRAVEL, and CLIMB! Everything else was merely buying us time.
So we decided to cut out the middle chapters, which begs the following question:
"Can we actually do it?"
Emotionally speaking, hell yeah!
We think.
You're never really ready for decisions like this, but our relationships, jobs, and life things are pretty stable at the moment. There are no big weddings or babies in the horizon. Our families are healthy, we're healthy, and our climbing fitness, well, that's as good as it can get for now.
Logistically? Likely.
We have access to tools and a little bit of space for the vehicle. Together, we have a pretty broad range of experience with electronics, plumbing, carpentry, sewing, designing, writing, project management, and financial planning. For everything else, there's Google.
Financially? Maybe.
This is a moving target and we will continue to save towards this trip during the build-out of the van. We will be tracking all expenditures closely to give you all an insight into our planning and the outcomes. We plan on writing a detailed post about our preliminary financial goals, costs for the build-out, and budget for the year of travel.
What This Blog is About
We are not only blogging to chronicle what we're up to, but also to put it into the universe in case it helps someone! We've truly appreciated all the other videos and blogs we've come across -- they've helped us immensely with everything -- and we thought we'd try to give back in the same way.
Until we get the vehicle, our posts will revolve around all our planning activities. They may be a bit scattered to start, with e' several topics jammed into one, but it'll help us document our thought process and ideas as well.
Once we get construction started, we're hoping to get some videos up as well.
Our Tentative Plan
"Tentative" is kind of redundant, isn't it? I mean, all plans are tentative until they are executed and actually go according to, well, the plan.
We've already begun our search for a vehicle and have been scouring Kijiji, auctions, and auto dealers online. We're leaning towards a box truck as opposed to a sprinter-type van (more on that in another post), but stay tuned for the big reveal. Here is our timeline:
Dec
PLAN & SET-UP ALL THE THINGS

Prepare financial plan
Mock up camper build plan
Come up with project name, logo, and set up internet handles
Gather camera gear

Jan
CAMPER VAN GAME PLAN

Detail camper build plan
Search for vehicle and be ready for a purchase
Binge YouTube videos and blogs for all things camper-related

Feb
EPC & CANUCKS BUY A TRUCK

Climbing trip to El Portrero Chico
Buy a truck? Buy a van?

Mar
VEHICLE

Bought, certified, registered, demoed, prepped

Apr
FRAMING
May
ROUGH-IN
Jun
WALLS, WINDOWS, DOORS (and vacation)

Put up walls and cut holes for windows, doors, and vents!

Jul
INTERIOR
Aug
SCHLAFEN & SCHLEMMEN

(Sleeping & feasting in German)
Continue kitchen and work on bed area

Sep
FIESTA ROOM
Oct
GOING OFF GRID

Set up solar and do a test run!

Nov
LET THERE BE LIGHT

Interior electrical, lighting

Dec
WATTS UP, DOC?

Battery and hooking up fridge

Jan
Buffer time and hibernation
Feb
Butter fime
Mar
Buffer time and packing
Apr
HIT THE ROAD!
Sachiko here: We think this timeline is pretty...well, Moritz said "aggressive" at this point, and I was going to say "generous".
We've factored in a lot of buffer time, but are expecting all sorts of things to come up. From delays in procuring materials, potential repairs, us needing a break, all this accumulates, BUT we are gunning for the 2021 date. The timeline is VERY HIGH LEVEL to give you a sneak peek into what we've planned. This is our intended tentative plan for now.
Up next and for all you bean counters out there (Sachiko: I'm an accountant, I can say that.), we'll dive into our financial plan to show what our preliminary numbers look like!