March Recap, Our Budget, and COVID
March flew by and April's flying by faster! Some days past by so quickly, while others feel like they stretch on and on.
It's Chiko here and I now understand what it means to have writer's block. Although, it was more like dreading having to put my thoughts and emotions into words about COVID, but maybe this will be a healing exercise in itself. I'll keep my thoughts-and-feelies until the end of the post, but head on down there if that's what you're here for.
First, truck stuff!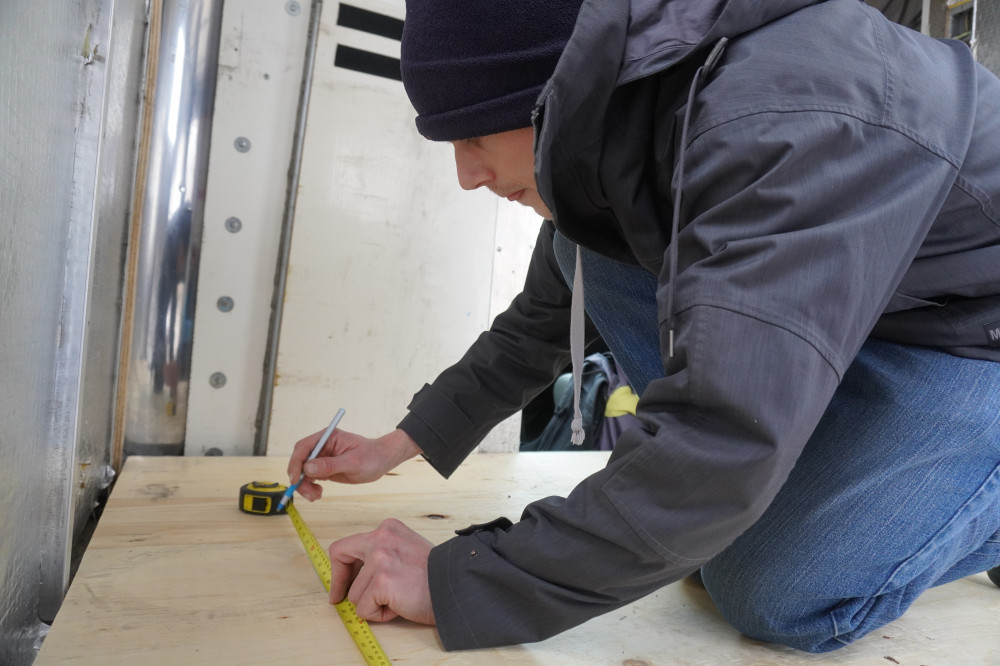 Recap of March
March was a busy month for us. I like lists and we were able to accomplish the following:
Demolition
Full teardown of the inside of the truck
Removed the arrow
Removing wall panels
Ground down the rust and repainted
Vacuumed 10 years' worth of grime in the box
Wiped everything down
Removed the pee jug
Power & Electronics
Solar
Rush researched and purchased solar panels and batteries to get them before Chinese shipments slowed down
Received the wrong solar panels
Heat
Got the heater to work!
Disassembled the heater
Tore it down to clean out all the pieces
Found a Chinese rip-off for cheaper (phew!)
Structure
Budget Update
Everyone, I'm really proud of this spreadsheet, so please, take it and use it!
By the end of March, we had spent a whopping total of $21,354.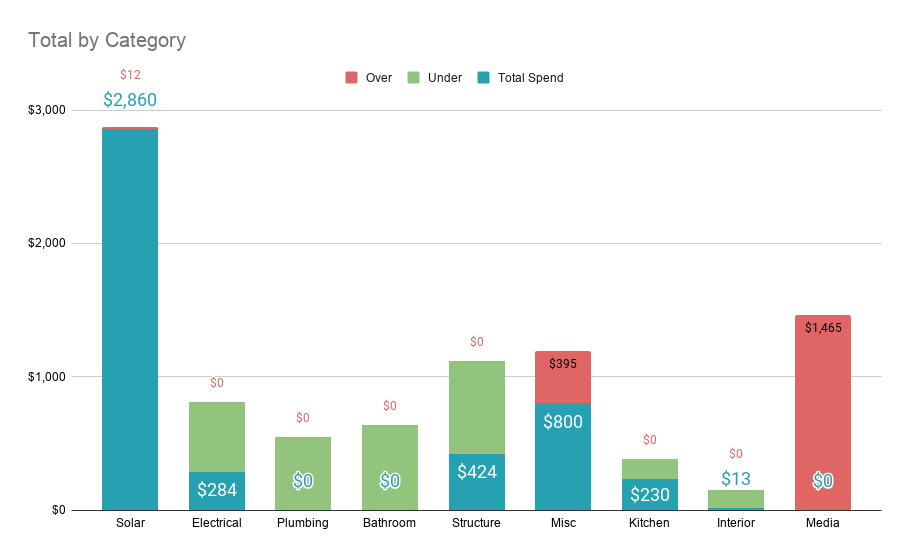 Let's highlight our top three spending categories in terms of activity:
Solar | $12 over and more to do
Actual - $2,872 vs. $2,860 - Budget
With China closing their borders and a lockdown on our heels, we reviewed all the items we needed that was on our critical path. Solar components were key as most of these come from China. We were already seeing a delay in shipments of computer hardware long before the lockdowns were announced in Toronto, so we jumped the gun at this one. If we are able to go on our trip next year, we don't want to be delayed because of this.
But because of this, we ended up paying a premium for the battery. The panels themselves were not that bad. We still have to buy the 24 V charger, but I'll take a 10% overbudget rate at this point.

Miscellaneous | $1,235 over and more to do
Actual - $1,235 vs. $800 - Budget
We don't know what we don't know. This bucket is catching all the items we didn't anticipate in our budget, including tools and hardware, demolition waste and parking (including parking tickets).

Tools & Hardware
Okay, let me know what you think. I'm fairly certain that Moritz is using this project to hoard all the power tools he's always wanted and never had a big enough excuse to buy! Our tiny little apartment has turned into a storage garage. Not that I mind that much, but I'm gonna lose a toe one day as I ninja-land into a yoga pose onto a saw. I do want to give credit to Moritz for being extremely cost-conscious of his purchases. All of our tools are secondhand from Kijiji or Toronto Police Auctions, so we've been able to get everything at 50% off retail or less.
I didn't know screws cost so much to buy, so this is a learning lesson for me. I feel bad now for giving Moritz a hard time when he was collecting all reusable screws during demolition. Sorry dear, I love you!
Demolition Waste
Moritz covered garbage in a previous post, but for me, it was pretty cool to see what happens in our waste sorting facilities. It didn't smell as bad as I thought it would. We're almost done with the waste, so hopefully, this category doesn't increase much more.
Parking & Tickets
I get that Cubert looks a bit like a murder van (dubbed by my coworker), but come on! And also, Toronto, get your act together about parking on the streets. We live in a very residential area with minimal traffic. In Toronto, there is a by-law that you cannot park for more than 3 consecutive hours if there is no signage. Usually, parking reinforcement leaves you alone, but they will come by and ticket if a resident reports a violation.
I'm seething here. What harm does the truck cause you when it is parked on the street, not even on YOUR SIDE of the road as we had it parked next to a vacated commercial building?!
Anyway, we got dinged twice (Cubert and our vehicle), our landlords got dinged twice as well (two vehicles), and our next door neighbours. We got into a little spat over this as well because parking reinforcement does come by every so often, so we were hoping it was business as usual and not because of our van. Well, guess what? It was us.
All in all, negative experience, but we found a parking lot nearby where we have to pay to park Cubert and have made amends with those involved.
Floors | $95 over and more to do
Actual - $20 vs. $115 - Budget
Pattern here, we're bad at budgeting! Who isn't?

We carved out some plywood and lumber costs from the structure category. To save on costs, we're going to skip on flooring until we get the shower stall, cabinets, and benches in so that we only need nice flooring for the visible areas.
The whole subfloor cost us $210, which is not terrible. We didn't account for insulation on the floors, but perhaps, we'll get some cost savings overall since most of the wall came pre-insulated.
COVID and How It's Affected Us
Everyone assumes they're invincible until they're not.
We were no different. We took the warnings lightly, obliviously shielded by the comforts of living in a first-world nation.
Please don't misinterpret this as we didn't follow the rules.
No, we made sure to isolate as much as possible, wash our hands, wear a face cover to prevent spreading of droplets. We stayed up to date on the news (too up to date, if you ask me), avoided friends and families.
We celebrated my birthday quietly and alone, as did several of my friends who also share birthdays around this time.
It sucked.
I already get broody around my birthday.
Another year already? What did I achieve? Did I make a difference this year? Was it enough?
My annual bout of existential crisis was amplified by the pandemic. What made it worse was I didn't know how to define it. I didn't know what I was feeling. Without that understanding, I couldn't accept and move on. Then, my chief officer at work shared this article from the Harvard Business Review, "That Discomfort You're Feeling is Grief." I read it and had a mini-cry before my work day started.
Speaking of work. Who else has been putting in insane hours? For me, some was by necessity to move everything remote. I recently took on a different role at work and became responsible for onboarding new hires. My company went remote almost a month ago, on March 16, 2020. During that week, I onboarded 4 new hires, plus the 3 carryover from before our office went on lockdown.
Any way, the entire weight of this pandemic didn't hit me until I started reading about Filipino slaves in America (I'm all BUT Filipino, but the little old lady in the article looked like my grandma and piqued my interest). The sadness from that story plus the overwhelming grief I had been harbouring forced open the floodgates. Moritz had a rude early morning awakening of Chiko (blanket) burrito in a sobbing mess, heaped on top of him.
As if my goldfish eyes couldn't get any goldfishier.
This was only last weekend, but I had a severely good and much-needed cry to emotionally and physically process everything. I recommend one if you need it. You'll need either a shower, a pillow, or onions.
For the world, I am mourning all the lives lost that didn't have to be lost. Many of these are elderly family members, whom, like my grandmother and Moritz's parents, had plenty of blank chapters ahead of them.
For my family, I am grieving their jobs lost, taking with them their physiological securities. The heightened level of insecurity is palpable. My parents made some tough decisions about finances recently because they didn't want my help. They wanted to protect my life from this pandemic. (Oh god, now I'm tearing up again.)
For my friends, I am saddened over celebrations, progress, and potentials lost. The 2020 year was supposed to be the year for so many. Getting married, sending that project in a distant land, having to return home early from an adventure. All of these had to take a backseat while we reconvened globally to protect ourselves and those around us.
For us, I am stressed by.
Moritz: "Seeing the same damn face over and over. At lunch. At dinner." /cackles silently to himself next to me
Let's try that again.
For us, I am stressed by this project. Wow, it was very relieving to put that into words. This project has become our world, much as rock climbing had before this lockdown. On the one hand, we are immensely grateful to have this project to distract us. We've learned so much about each other and so many new skills. But my gut tells me that our obstacles have just begun. The heaviest cloud looming over our heads is, Will we even be able to go on our trip next year? I'm a firm believer in, if there's a will, there's a way, but when the trade-off is possibly endangering someone else's life because you are an asymptomatic carrier? Well, there's no way.
For me? Right now, I'm okay. I am okay. And okay is good. I am healthy. Moritz and our family and friends are healthy. I have my job, as does Moritz. I still have the luxury to plan for next week, next month, next year. But for now, I shall only live one day at a time.
On the road to pitches,
Sachiko (+ Moritz)