4 Myths of Building a Camper Van
As Canada enters its fourth month of COVID-19 lockdown, it only makes sense that sales of camper vans and RV trailers are trending.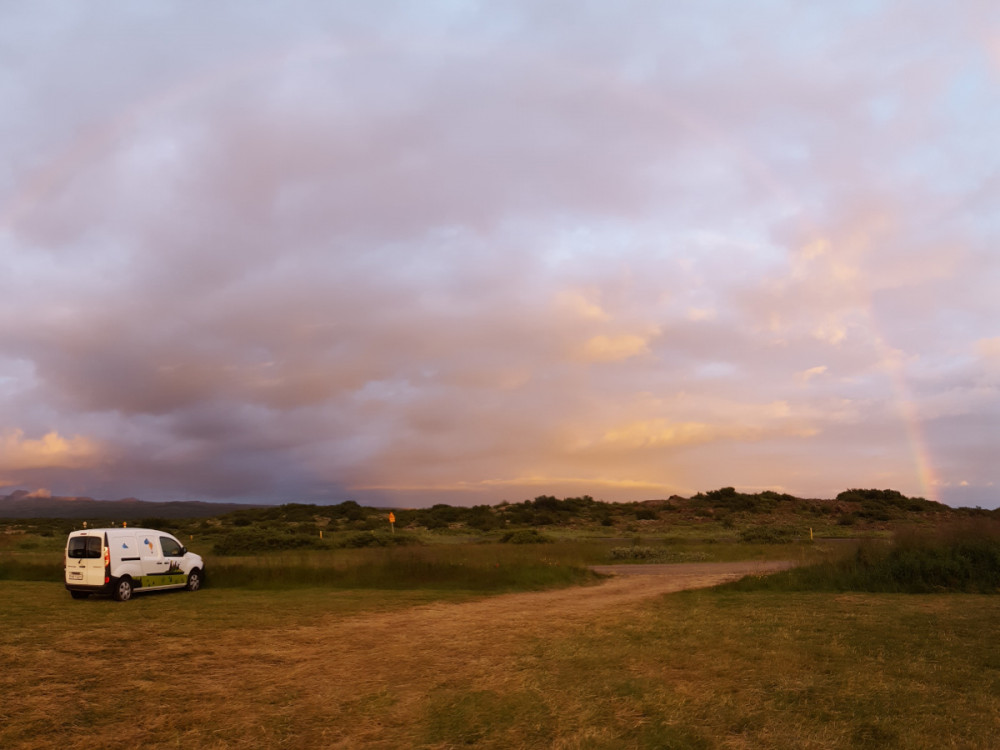 Without flights, the only options are to travel by car, by bike, or by foot. (Or horses and mules.) It's no surprise, then, that "camper" reached its peak popularity in the last 12 months of Google searches.
People are bored, and they want to escape. Building a camper sounds like the perfect weekend distraction with an escape pod as a reward.
But do they really know what goes into a camper conversion?
Well, we thought we did, but we were wrong.
If not for...
us being in this together,
keeping each other motivated,
expecting failure at every turn,
and planning for a lot of time to screw up and cover our mistakes,
we'd have thrown in the towel long ago.
Highlight reels on social media rarely appreciate the sacrifices that builders make, or the endless stream of challenges that builders face. I'm here to debunk some of the myths of building a camper van while proving that there are ways to overcome these obstacles.
"It's going to be so much fun!"
Everyone's got their creative outlet. Whether it be dancing, cooking, or tinkering. Oftentimes, it's a hobby that involves crafting something with their hands.
Van builders are no different. Many of us gravitate towards a project like this because we love to make things. Better yet, we love making things ourselves.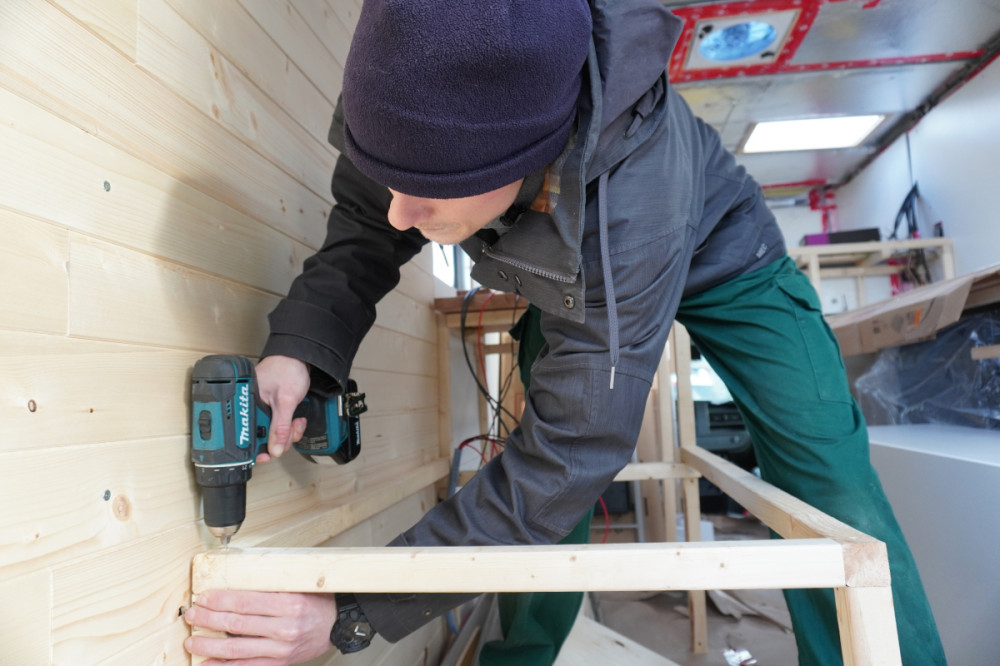 Skimming through Instagram and YouTube, you see photos and videos of starry-eyed couples grinning next to their Scandinavian-esque, wabi sabi-inspired, perfect tiny home. Actually, scratch that. What you usually see are butt-shots of women lying on their camper van beds, facing out the rear doors towards breathtaking scenery. Unfortunately, sex still sells.
What you don't see behind the scenes is us fiddling with a screw for 40 minutes because it got stuck. The bumps, scrapes, and tears, like when Moritz dropped a 20 lb roll of plastic wrap on my toe. The complaints from neighbours that want our truck off "their" street.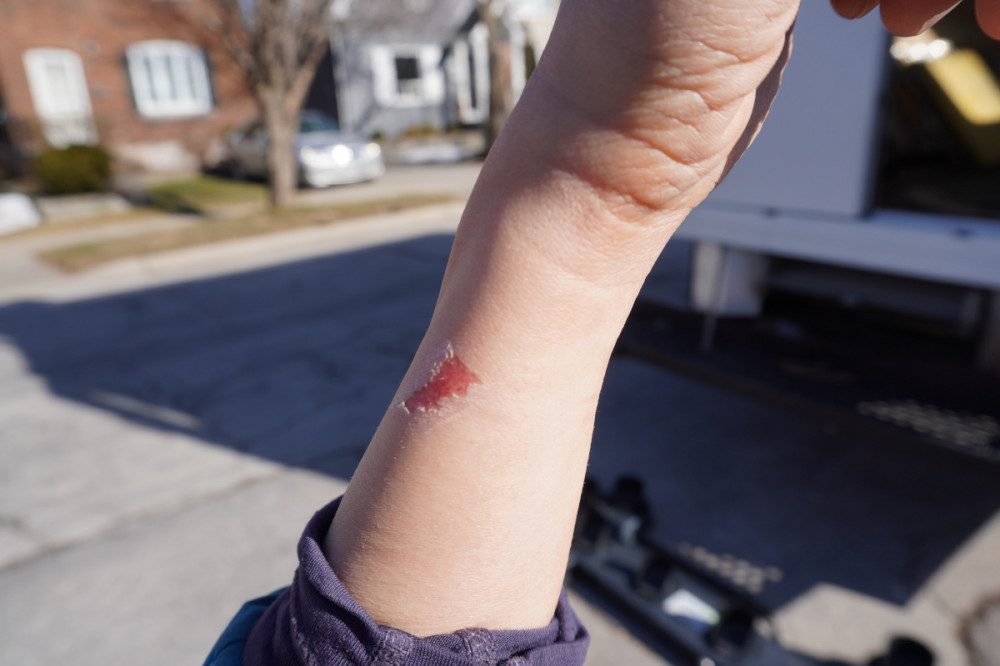 I don't want to confuse the word "fun" with "rewarding." Let me tell you: building a camper van is usually, not fun. Even for someone like Moritz, who loves working with his hands and using tools. We had a conversation that went like this.
Sachiko: "Hun, do you have fun building our camper?"

Moritz: "Ja."

Sachiko: "Okay, how much fun? What's the proportion of fun moments to not-so-fun moments?"

Moritz: "Mmm, I would say 80-20."

Sachiko: "80% fun?"

Moritz: "80% not-fun. 20% fun. BUT, the fun emotions outweigh the not-so-fun emotions, so maybe it's 50-50."
Don't get me wrong. Building everything has been extremely rewarding. That's because, at the end of the day, the progress is tangible. I can see and touch what I've created.
On the fun scale, however, the other side of the coin is "mastery." I have exhibited zero finesse in working on the camper, let alone mastery. When I think of finesse, I think about my rock climbing. I did not start to have fun rock climbing until I mastered beginner routes. Then, I was able to have fun on easy routes because achieving a state of flow was effortless.
During this camper build, I've had a lot of fun shopping for our faucet, floor, and tools. Designing the layout, drawers, and ceiling. Writing on this blog. Now, six videos in, I am starting to look forward to editing. These are things I know how to approach and can clearly see what needs to be done from start to finish.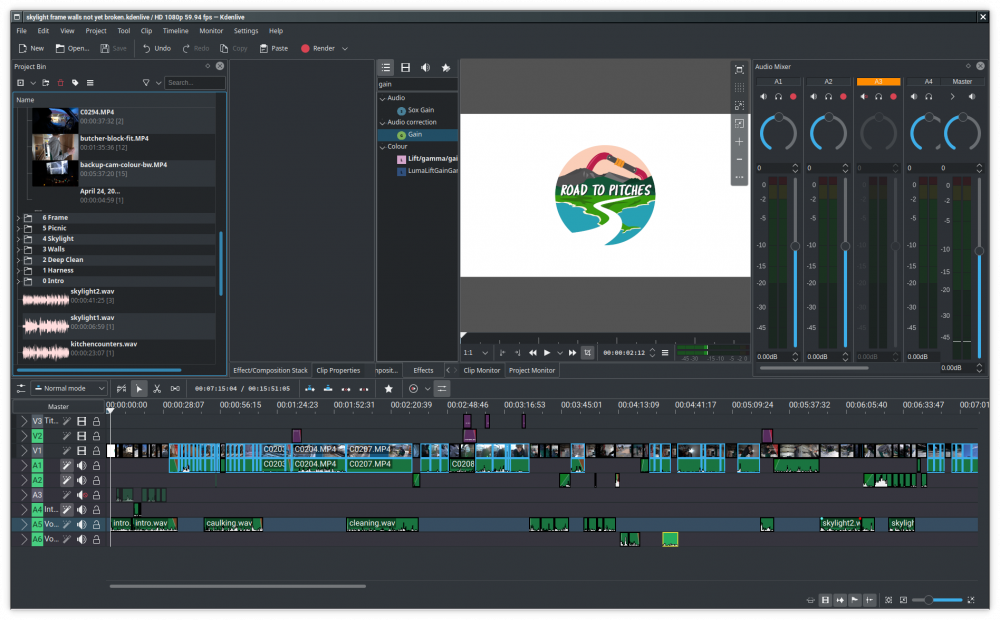 What I haven't enjoyed makes up a long list. Putting up particle boards. Cleaning. Caulking leaks. I hated doing the insulation—my skin would itch for days—and taping the vapour barrier. The dust makes me sneeze. The subfloors sucked as well.
Moritz has enjoyed the electrical, solar, plumbing, framing, and shower pan. He feels neutral about the backup cameras. He's strongly disliked the cleaning, installing ceiling panels, wiring the LED lights, and more.
The most enjoyable part, so far, is getting to work with Moritz. We've learned so much from each other, about each other, and about building things. Sometimes, it IS about finding joy in the journey and if you can do so, then building a camper is not out of your stars.
"It's such a small space! How difficult could it be?"
Oh, let me tell you.
Cramming a house into a small space does not decrease your workload. In fact, the opposite is true. Without out-of-the-box options, it's up to you to invent and customize countertops, drawers, and shower pans to fit your home.
Compare a small home project, like renovating a bedroom, to building a similar sized camper van. A bedroom is four, straight walls. Add in a light fixture, some bedroom furniture and you're golden.
On the flip side, a tiny home on wheels has a bedroom that bleeds into the living space that doubles as the kitchen right next to the bathroom that contains the removable composting toilet that can be used next to the garage of two different water tanks, all your recreational equipment, batteries connected to the rooftop solar panels, which power your fridge, fan, and electronics. Oh, and bolt everything down so that they don't turn into projectiles as you drive.
What most people don't realize is that you are essentially building every single room from a house into your camper van. That means carpentry, tilesetting, plumbing, electrical, solar, insulation, and more.
With such a small area, you must be clever about storage and how everything fits. Building in a small area doesn't play to your advantage here when it comes to assessing how difficult a camper build will be.
Having said that, we have hundreds of resources at the tips of our fingers. Whatever conundrum you're facing, someone's likely encountered it before. Better yet, they've probably published a step-by-step video on how they fixed it! But, even when you eventually find the solution manual to your problem, it's likely to be missing some words, if not several pages. Oh, and it's probably for the wrong model.
"Less than 100 SF of space? That's like no cost at all."
Have you seen our budget? We're already over and there's no going back. AND this is only the build. Based on my preliminary calculations, van life will cost us approximately the same as living in Toronto.
Generally, the smaller the space, the less material you'll need, which means a lower cost. This applies to a certain extent in a camper build in that we will need less wood, less paint, fewer screws.
But, with having to build out every single room into this space, you'll need to factor in appliances, electrical, plumbing, and furniture that suit your camper from bedroom to garage. What's worse is that appliances, such as fridges, which are made for small spaces like boats or RV's to operate on electrical power, are typically more expensive than the very same appliance used in a house.
If you're comparing apples to apples, e.g. a completely outfitted house to a camper van, then yes, absolutely, you're saving on costs. Building and outfitting an average home could cost you $100,000 vs. $80,000 for an average camper starting with a new vehicle.
Depending on how many creature comforts you're willing to give up, you can "build a camper" starting at a few hundred dollars (e.g. build a bedframe and toss a mattress into the back of a caravan). From our research, we've seen camper builds go as high as a couple MILLION dollars.
Yes, not kidding.
These are multimillion dollar expedition vehicles built using military-grade components. They can travel through almost any weather and any terrain Mother Nature decides to throw at them.
Our camper is projected to cost around $30,000 because:
We are converting a crappy, 10 year-old box truck with almost 300,000 km on it.
We are building and installing everything ourselves, including our custom shower pan, modified water heater, modified fridge, cabinetry, electrical, and textiles. Both Moritz and I know how to use a sewing machine and I've never been more grateful to have a partner as handy and resourceful as Moritz. If you have to rely on contractors to do any of the electrical, woodworking, plumbing, or otherwise, your costs will quickly add up.
We have time. This means we can thoughtfully research, plan, and prepare before executing each project. This also means that we have time to wait for materials to go on sale or for secondhand tools to show up in classifieds.
So, it is possible to do this for cheap, but only if you're willing to put in effort and sacrifice time.
"It'll be so quick."
Speaking about sacrificing time...
Anything can be quick if you're willing to shell out the dollars for it. And if you're not, you better hope time is on your side.
We gave ourselves a healthy 18 months to build out our camper. When we first came up with this number, we, too, were flabbergasted at how long the build was going to take. Originally, we had wanted to depart in 2020.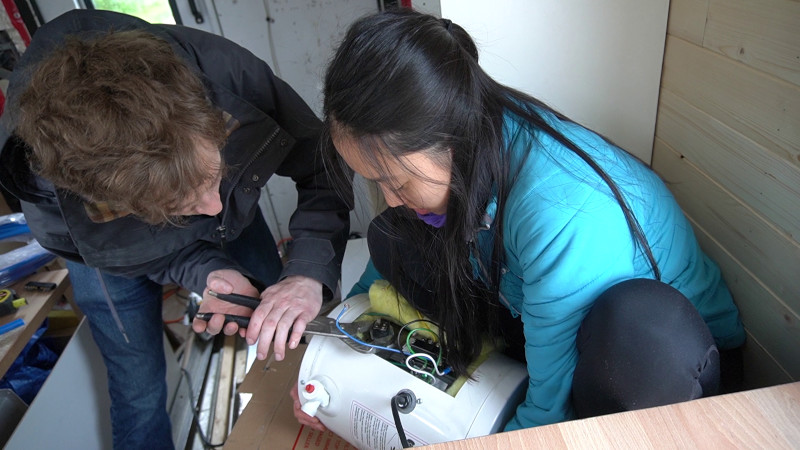 According to this article on Trail and Summit, RB Components, a professional builder in California, takes up to 3 months to build their signature vans. Full-time. That is equivalent to 90 days, or 45 weekends. Tack on vacation weekends and an inefficiency buffer and you've basically got yourselves a year as your starting point. We've seen other folks take up to two years to complete their conversion.
Currently, we are about 60% of the way through our build and seven months into our timeline. Once the shower is complete and we've got our appearance boards in place, we will approach 80% completion. We all know that the last 20% takes just as long as the first 80%. All the minor details from patching up holes to making cushions, procuring textiles we like, sewing curtains, etc. will all add up to a lot of time.
But, now that you've read this, you'll be wise enough to give yourselves plenty of time so you don't miss your departure date!
Would We Do It Again?
Despite our setbacks and sacrifices, "Yes!"
Yes, it's not as fun as we thought it would be, but it sure is rewarding and exciting to learn and see our progress.
Yes, it's more challenging than what we thought it would be, but we've built up a lot of resilience and knowledge.
Yes, it's costing us more than what we planned, but we're not going on vacation this year anyway!
Yes, it's taking longer than what we hoped, but it's almost like climbing a grueling route—you're painfully sweating and cursing through it all, but you almost don't want it to end.
So yes, we would do it all over again.